Modern Shared Office Space in Wichita
If you're on the hunt for a unique office space that leads to better business, why not try a unique approach? While still a foreign idea to many, shared office space may just be the environment you need.
At Strategic Workspace, we have an impressive selection of modern, cost-effective workplaces for rent. Call us to book a space or learn more about the office spaces we have on offer so you can decide whether they're right for you.
The physical workplace plays a larger role in business growth and success than people realize. It shouldn't, and doesn't have to be, just a place where employees finish daily tasks. Modern office spaces can help breed innovation, boost productivity, and promote professional networking when businesses get them right.
Call Strategic Workspace today to discuss your shared office space needs in Wichita!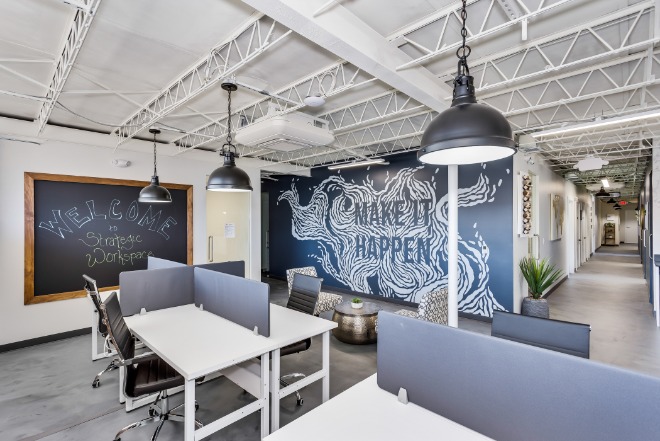 What Are Shared Offices?
Shared offices, also known as shared workplaces or coworking spaces, are offices in which multiple companies and individuals operate and conduct business. Though people often imagine that such a workplace would be overcrowded, this couldn't be further from the truth.
Shared spaces include both separate private offices and common areas. That means that each company or individual can choose when to conduct their business privately and when to socialize and network with other professionals.
Network with other shared office space tenants
You'll be working in close proximity to other business who shared office space at Strategic Workspace. If you so desire, you can experience networking opportunities in Wichita with other tenants and learn about other industries and expand your reach.
Our shared spaces in Wichita can and have led to innovation and numerous professional relationships. Why not look at the options that Strategic Workspace has available?
Frequently Asked Questions
Why Do Shared Offices Provide Better Work Environments?
Unlike rigid cubicles, shared offices offer more comfortable and modern work environments that help boost productivity. They include community spaces, such as kitchens and conference rooms, in which professionals can collaborate and socialize.
How Are Shared Offices Divided?
Dividing shared offices is a case-by-case solution. If you're sharing with one other company of a similar size, you could divide it equally so that each side has its own private work areas and agreed-upon community spaces.
How Can Freelancers Use Shared Offices?
At times, instead of companies occupying a shared office, multiple freelancers rent and use the area. In other instances, a company may occupy part of the shared office, and freelancers utilize the remainder. In both situations, each freelancer has their own workspace.
How Much Does it Cost to Rent a Shared Office?
The cost of renting a shared office space depends on numerous factors, including size, location, and how many people split the cost. Strategic Workspace's starting plans are incredibly reasonable, so check out our website.
Were you searching online for a shared office space near me and found us?
If you're searching for a "shared office space for rent near me," Strategic Workspace offers the perfect solution. We have shared offices in several sizes, so you're bound to find an ideal one for you and your business. Call us at (316) 816-0816 to explore our spaces today.
The many benefits of shared offices
Professional Setting
Whether you're a freelancer, the founder of a small startup, or the long-time CEO of a successful business, it's essential to have a professional setting in which you can work. A home office or coffee shop can offer an excellent change of pace, but you need a home base where you can confidently host a private meeting or work on a team project. A shared office provides such a space.
In a shared office space in Wichita from Strategic Workspace, you can utilize professional equipment, such as desks, projectors, and digital displays. The environment also promotes productivity, allowing businesses and individuals to thrive and grow.
Flexible
There is plenty of flexibility involved with shared offices. They allow each employee to work in their ideal settings, whether they're private spaces or collaborative areas. Strategic Workspace also encourages you to customize the shared office with equipment and decor to better suit your business needs.
Would you like a flexible term for your shared office rental? Instead of committing to a long-term workplace, try the shared office for a short period. You'll then have the opportunity to make a change if it isn't what you had in mind.
Convenient
At Strategic Workspace, we ensure that our coworking offices in Wichita are all about convenience. They provide a company with all of the amenities of a full-time office without the long-term commitment and the hassle of upkeep. Great-value amenities in these packages also include high-speed Wi-Fi, in-house receptionists, and cleaning services.
Affordable
Perhaps, the greatest benefit of shared offices from Strategic Workspace is the affordability. Many freelancers and small companies don't have the means to rent their own workplaces. Our shared spaces provide the same experience at a fraction of the cost.
Are You Interested in touring the workspace for shared Office Space?
Fill out your details below