flexible coworking Space in Wichita
Call Strategic Workspace today to discuss your coworking space needs today!
Say goodbye to the cramped coffee shop workspace, and say hello to your new coworking space solution! Are you and your team struggling to find a coworking space that meets all of your needs? When you're ready to take your office spaces to the next level, Strategic Workspace has your back.
Our coworking space services offer numerous benefits that can help you and your business go from surviving to thriving.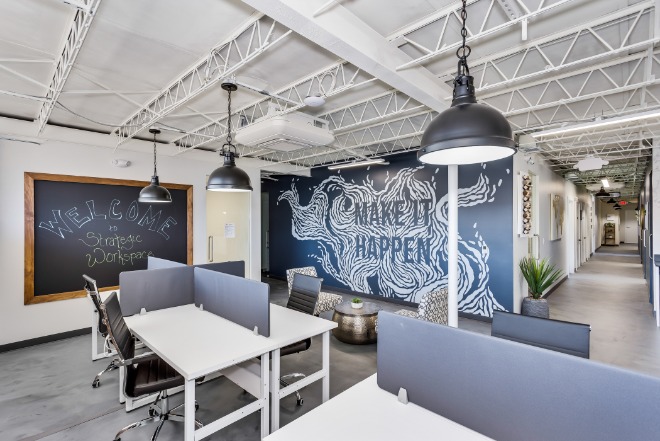 Why Rent a Coworking Space?
If your current office is too big and expensive for your needs, or you crave connection and collaboration with your coworkers, a coworking space in Wichita is the perfect solution.
Looking to expand your team and need more equipment? At Strategic Workspace, we are dedicated to providing you with the essentials you need for your business to grow. Take a closer look at what we offer and the benefits of our coworking in Wichita.
Benefits of our Coworking Space in Wichita
While a virtual office has its perks, working in a collaborative coworking environment offers more space and flexibility than you can get at home. Here are some of the benefits to our shared office space for rent in Wichita:
Dedicated desks
Projectors
TVs
Whiteboards
Storage space
Conference rooms
Copy machines and printers
Professional cleaning services
If this sounds like the perfect setup for you, give us a call today! We'll get to know your team and help you find the best coworking space that checks all the boxes.
Frequently Asked Questions
What's the difference between a private office space and a coworking space?
The difference between an office space and a coworking space is who works there. A private office is reserved for employees of one company, whereas a coworking space is a shared space where multiple companies or individuals can reserve space.
Why choose a coworking space over an office space?
Coworking spaces are more affordable than private office spaces and offer more collaboration and opportunities to connect with your team and other business professionals.
What's included in a coworking space in Wichita?
A coworking space comes with high-speed internet, an in-house receptionist, security systems, and a variety of office equipment to suit your needs.
How are coworking spaces sustainable?
Coworking spaces are naturally eco-friendly and reduce your carbon footprint through the use of shared utilities and a minimalistic office layout. Instead of three different small companies renting out entire floors, they can share a coworking space and cut down on electricity use.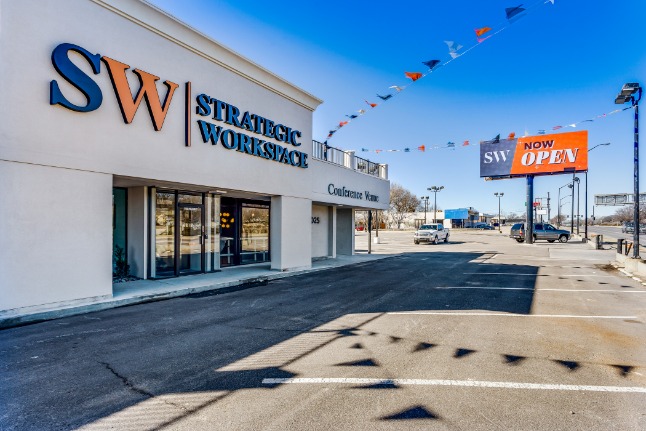 Why choose us?
When it comes to running your business, you shouldn't have to worry about the basics. You should feel comfortable in your office space. At Strategic Workspace, we go above and beyond to provide an exceptional coworking space in Wichita, KS, that will meet your team's needs. Call us at (316) 816-0816 to discuss your workspace needs today!
Cost-Effective
Rather than buying and renting an office building for your business, you can select one of our flexible pricing plans that includes everything you need for your office. Coworking in Wichita has never been easier.
Networking opportunities
Having a physical, coworking office space can open the door to several networking opportunities within your business. It allows you to have a space to meet with clients face-to-face and other business owners who are in the area. We also offer networking events that you can be a part of to help grow your business and connect with other professionals.
Collaboration
Working from home or individual private offices can often feel secluded, which can lead to low levels of productivity. Having a coworking meeting space allows your team to connect and collaborate with each other, which in turn builds a more positive and productive work environment.
Flexibility
Whether you have employees on a hybrid-remote schedule or you are looking to expand your team, a business coworking space offers the best flexibility. You can decide if you need a conference room, event space, dedicated desks, or private offices for those who need them.
Are You Interested in touring the workspace?
Fill out your details below