Premier Venue for Parties in Wichita
Strategic Workspace offers affordable and convenient venues in Wichita for parties of any occasion. Contact us to discover your options today!
Does your loved one have a birthday coming up? Maybe you're planning a wedding reception or an office holiday party? Whatever the occasion, Strategic Workspace has the perfect venue for rent in Wichita for your celebration.
Our flexible event spaces can accommodate groups of all sizes so you can plan the perfect event. If you want to learn more about our party venue rental service in Wichita, reach out to our friendly team. We will discuss your needs and break down the details to help you find the most suitable option.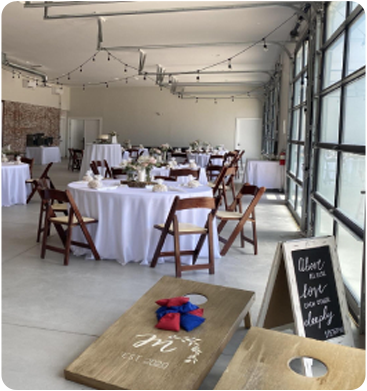 An Intimate Gathering or a Grand Affair?
Strategic Workspace offers two different spaces to suit the number of guests and the general atmosphere of your event. Our smaller venue can comfortably accommodate up to 96 people, perfect for a birthday party or a more intimate gathering. 
For larger events, we can provide a space that seats up to 151 people. This option is excellent for wedding receptions, corporate events, and other grand affairs. Don't hesitate to contact our team for help finding the perfect venue rental in Wichita for your special occasion.
We have the essentials covered
Unlike other venues, Strategic Workspace provides the basics you need to make your event a success. Our venues for parties come with the following amenities:
Highway access and easy parking. Few things can ruin an event like heavy traffic or difficult parking. We have a convenient location along the highway, and guests can easily find a spot in our spacious parking lot.
Full-time receptionist. We have a friendly, well-trained receptionist on-site to assist you and your guests during the event. You don't have to worry about unnecessary stress or complications.
High-quality audio and visual equipment. No party is complete without music and visuals. Our venues have the latest equipment to make your event fun and memorable.
Tables and chairs. We provide enough tables and chairs to accommodate your guests. We're careful to choose neutral styles and colors that match any party decor.
Why Strategic workspace?
Every special event deserves an ideal venue. At Strategic Workspace, we prioritize convenience and affordability without compromising quality. Our team will make your event a success from start to finish.
No vendor preference. Unlike other event venues that impose a list of vendors, we offer complete flexibility. You can bring in your own caterer and other service providers to suit your tastes.
Competitive rates. You don't have to worry about breaking the bank to rent a suitable space. We offer flexible and straightforward pricing with no surprise fees.
Clean environment. Nothing can ruin an event faster than a dirty, ill-maintained venue. We keep every corner of our space spotless to ensure your event goes according to plan.
Don't hesitate to contact us at (316) 816-0816 to learn more about our venues for parties in Wichita, KS. Our experts at Strategic Workspace are more than happy to answer your questions and discuss the details of your event.
Are You Interested in Renting Out Our Event Venues?
Fill out your details below