rent a space in a state-of-the-art business center
Contact Strategic Workspace today for all of your business center needs! 
Move aside work-from-home jobs because business centers are the new innovative workspace! At Strategic Workspace in Wichita, KS, we provide event space for rent and workspaces for members in our high-functioning business center. 
Take a look at some of the advantages of renting a space in a business center and all of the features and amenities we offer. Your priority is taking care of your business, so let us help by providing space for you to work and meet!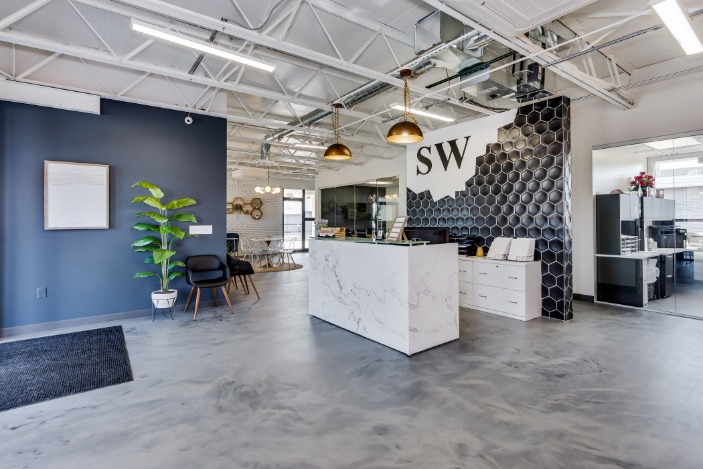 Why Rent in a Business Center?
Selecting a business center for your company offices or business event can make all the difference in how you conduct business day to day.
Are you looking for a place to host a business event or need more space for your employees? We are dedicated to providing you with the office space and equipment you need for your business to grow, whether you're a one-person company or a mid-size company. Take a closer look at what we offer and the benefits of our Wichita business center.
Benefits of our business Center in Wichita
While private offices and coworking spaces provide flexibility and collaboration opportunities, it is the business center takes it to the next level. Our business center offer a wide variety of benefits for business owners and provide extra support to help keep day-to-day operations running smoothly.
Here are some benefits we offer: 
Private offices
Conference rooms
Storage space
Copy machines and printers
Whiteboards
Projectors
TVs
Dedicated desks
Professional cleaning services
With the right space, you have the power to help your business thrive! Call our team today, and we will help you find space in our business center to accommodate your business or private event.
Frequently Asked Questions
What is a business center?
A business center is a space that members and businesses can use to host events and conferences. Business centers are fully furnished and provide the flexibility of conducting small to large business events. 
What is the difference between a business center and a traditional office space?
A traditional office space has shared desks and offices and is occupied by one private business. Business centers are typically open for larger, paid events and business conferences. 
How can a business center increase employee productivity?
A business center can increase employee productivity by providing collaborative workspaces, access to administrative equipment, and an adjustable layout for people to roam freely and not feel confined to one space.
How can I book a business center?
If you need to rent space in a business center, contact our Strategic Workspace team at (316) 816-0816.
Why choose us?
When it comes to expanding your business outreach or hosting large events, you can rest easy knowing that it's in good hands. At Strategic Workspace, we go above and beyond to provide an exceptional business center in Wichita, KS, that will meet your team's needs. Call us at (316) 816-0816 to discuss your workspace needs today! 
Combined Workspaces 
The great thing about a business center is its flexibility of combined workspaces. You don't have to choose between strictly private office spaces and shared coworking spaces. You can have dedicated spaces for each and benefit from both of their perks. 
Professional Image
When working with clients and business experts, it's important to maintain a professional image of your company. When you meet with a client or conduct business meetings in our centrally located business center, you can be sure that you'll make a lasting impression.
Cost-effective
Say goodbye to high rent on an office building that doesn't suit your needs. Using a business center for your consulting services and other business needs is more economical. We include recurring expenses and utilities in your monthly rent.
Accommodates Larger Businesses and Events
If your team is growing or you are looking to host a large business event or conference, our business center can accommodate it with ease. 
Are You Interested in touring the workspace?
Fill out your details below